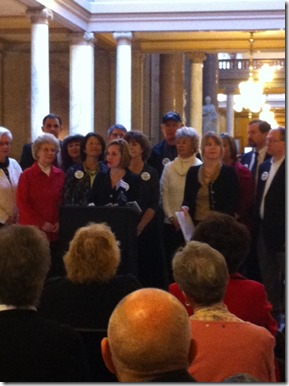 Below are our a transcription of Heather Crossin and Erin Tuttle's remarks prior to delivering our letter, signed by over 900 people representing 54 organizations, urging Governor Mike Pence to support SB 193.
Heather Crossin made the following remarks on Thursday prior to delivering the letter:
"We are coming together in a unified way today to express the numerous concerns Hoosier parents, teachers, and taxpayers continue to have about Indiana's adoption of the Common Core.
"As you know, SB193, which calls for a public review of Indiana's adoption Common Core and a cost analysis of implementation, passed the Indiana Senate 38-11. At this time, the prospects of SB193 obtaining a hearing in the House remain uncertain. However, one thing is certain – regardless of what happens to the legislation, much will depend upon the leadership of Governor Pence.
"It is for this reason that we are releasing a letter, which has been given to him, on behalf of 55 independent organizations. It outlines our concerns and respectfully requests that Governor Pence 'provide the bold leadership needed to return control of Indiana schools back to the state and to parents and teachers, where it belongs.'
"It's no secret that Governor Pence has long been a believer that education is a state and local function. In fact, just a couple of weeks before the election, when asked by the Indianapolis Star how he would prioritize social issues, Governor Pence responded: "I hope Hoosiers look at my record and see I have been a consistent independent conservative throughout my years in Congress. My career actually began with battles against leaders of my own party, largely on government spending. I opposed 'No Child Left Behind.' I was one of a small number of Republicans to do that because I think education is a state and local function."
"That said, the message we are conveying to the Governor is that we share his philosophy and his principles of fiscal responsibility and local governance. The breadth of Common Core opposition in Indiana demonstrates our citizens' concern over the loss of our autonomy over education. We trust that Governor Pence will put his
principles into action and help us protect that autonomy. When we decided to write this letter together, we envisioned that it would be submitted on behalf of the many organizations opposed to the Common Core.
"However, once word got out, individuals began clamoring to sign as well. So last Friday, we made it available for individuals to submit their names. In just five short days, over 860 individuals signed on to the letter. We will continue to collect and submit additional names as they roll in.
"In conclusion, I'd like to add that this letter in no way represents all of the groups who have expressed opposition to the Common Core. Many others, such the Indiana Policy Review, Americans for Prosperity, Advance America, Campaign for Liberty, the Indiana Association of Home Educators, the Homeschool Legal Defense Association and a number of teacher networks, are continuing to call in their own ways for a rejection of
Common Core."
After reading the letter, Erin Tuttle concluded with the following:
"This legislation represents a struggle between the voice of the people, representing states' rights which ultimately protect that close relationship that needs to exist – that has to exist- between a child's family and those in charge of his education and therefore his future, against the powers of corporations and federal agencies which at any opportunity seize and assume those duties and powers to which they have no constitutional right!
"The people of Indiana need to know that their will-the will of the people- will not be drowned out by the influence and the money that our opponents have used against SB193. The kind of power that can buy you $100,000 worth of commercials used to push a corporate agenda on an unwilling public.
We are confident that Indiana has selected the right Governor, Mike Pence, who will hear and honor the voices of his constituents- his wisdom allows him to see that at the end of the day, when the common core agenda fails, the publishing companies, the testing companies, the professional development companies they can walk away, their pockets lined with our tax payers dollars. But our children are forever impacted by the educational policies decided today in this house, the people's house."