Join FreedomWorks on Wednesday, April 17th as the FreedomWorks on Tap panel covers Common Core.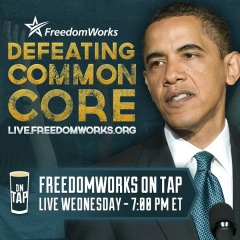 Common Core is one of the most pressing issues of 2013 as conservative activists are working to defeat Common Core from being implemented in schools all across the country.
The panel will be discussing how you or your group can work to defeat Common Core and how FreedomWorks can assist you! This is going to be a great event and we want to hear how we can help YOU!
Join the discussion at live.freedomworks.org at 7 PM!