When Indiana adopted the Common Core there was no test pilot done to determine if it would be effective and our state made a blind and imprudent decision to adopt Common Core. This time, as the State Board of Education and the Indiana Department of Education debate the future of Common Core in Indiana, it would be prudent to take advantage of new data from the performance of our cousin to the South, Kentucky.
Kentucky was the first state to adopt the Common Core Standards. They foolishly jumped on the bandwagon and began using Common Core exclusively in their classrooms in 2011. After two full years of  Common Core, Kentucky showed NO gains in mathematics and a DECLINE in reading on the National Assessment of Educational Progress. The Common Core implementation was not under-funded and Kentucky received several grants worth hundreds of millions of dollars to effectively roll out the standards. After spending millions, the state has little to show for adopting Common Core- except a loss. Below is a chart from the NAEP website showing the Kentucky loss in reading.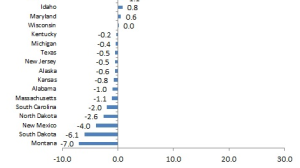 The sad part is that Kentucky's Common Core boondoggle put them below the national average. The 2013 average scale score for eighth graders in Kentucky was 281, lower than the national average of 284. To add insult to injury, the percentage of students who scored BELOW basic increased by one point. It's not a significant loss, but a loss just the same.
Kentucky's decrease in student performance is not being talked about in Indiana.  Hopefully, our state will consider this evidence and choose to opt out of Common Core.